The smell of mince pies and clementines is in the air, Christmas songs can be heard everywhere you go and you hope to see the first snowflakes of the season. Are you looking forward to Christmas already?
Christmas is just around the corner!
For many of us, Christmas is a time to reflect. Spending time with loved ones, playing games, watching old films, eating mince pies and of course drinking a comforting cup of tea.
What are you grateful for?
When there's so much to do to get ready for Christmas, it can feel stressful and we can easily lose sight of what really matters. Stay calm throughout these turbulent times and try to focus on your memories of the best things that have happened this year. Practise gratitude and appreciate the small things, even if they are so easy to take for granted. Feeling gratitude can help you to reduce stress and find new energy and enthusiasm.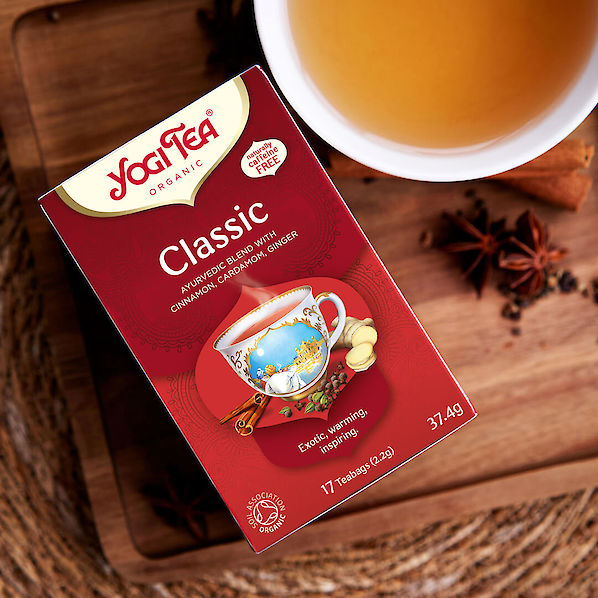 YOGI TEA® Classic – Give yourself strength and energy for stressful, cold days
YOGI TEA® Classic not only tastes delicious with a tantalising cinnamon fragrance, it is also a wonderful accompaniment throughout the Christmas period. What makes this tea so special? It contains five "powerhouse" spices that form the foundation of many of our tea blends.
A dynamic combination of tangy, refreshing ginger and sweet, smooth cinnamon are the basis for this tea. Ginger has a warming effect and can have a positive influence on the immune system, while the tropical spice cinnamon is a mood enhancer with a stimulating effect. Black pepper and cloves provide an energy boost and activate the circulation. Cardamom pods have calming and grounding properties, complementing the other ingredients perfectly. So it will come as no surprise that the following has been said about this recipe:
"With yoga and YOGI TEA® Classic, you have everything you need."
Now you have everything you need for the best time of the year. Find inspiration in a cup of YOGI TEA® Classic and practice some yoga whenever you like. Treat yourself to a peaceful moment full of gratitude to boost your energy levels, and to feel relaxed and ready to meet the challenges of the Christmas period. This tea is best enjoyed sweetened and served with milk or a vegan alternative. If you feel you need even more Christmas spirit, why not try our YOGI TEA® Christmas Tea.