No matter where you go, it feels like everyone is coughing or sneezing at the moment. Does it feel like that to you, too? In our last post, we introduced two of our YOGI TEA®s that can soothe your throat and respiratory tract.
This time, we'll show you which teas we think are the best foundation of wellbeing in winter.
The spicy taste of ginger warms the heart and lifts the spirit. The fruity, tart taste of lemon refreshes the mind and invigorates the soul. Hints of lemongrass, liquorice and black pepper add a light, spicy sweetness.
Yoga Pose: Self-confidence (Affirmation)
Sometimes we find ouselves dependent on appraisal and acceptance from others. There is a simple affirmation which brings back our own strength: Press your thumb on the mount below the pinky and close the hand in a fist. Say to yourself before you meet somebody: "I am healthy, I am happy, I am great".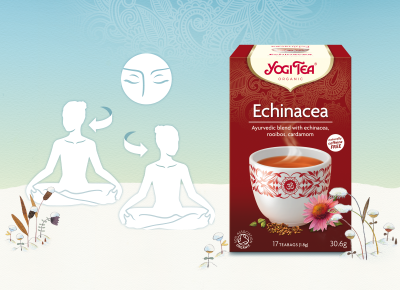 This intense spicy sweet herbal tea blend helps support our physical balance and well-being. Prized echinacea combines with sweet fennel, spicy ginger and cardamom to make this a perfectly harmonious Ayurvedic tea blend.
Easy Yoga to Bring Energy to the Throat
Sit cross-legged or on a chair with your spine straight and feet flat on the floor. Rest your hands on your knees with your eyes closed. Inhale through the nose as you turn your head so you are facing over your left shoulder; exhale through the nose as you turn your head so you are facing over the right shoulder. Continue for 1-3 minutes. Then facing straight ahead, take a few deep breaths and relax. Feel your throat fill with energy, warmth and light!
Have fun, sit back and enjoy!