At Yogi, our purpose is to serve. For us, this means that with every ingredient we source and every cup of tea we make, we strive to support quality, sustainability, and social responsibility on local, national, and global levels.
It was this purpose that inspired us to become a Certified B Corporation. At Yogi, our priority is to illuminate the lives touched by our work. In this article, we'll skip the technical jargon and present our impact as it pertains to the people and environments whose stories we have shared with our community.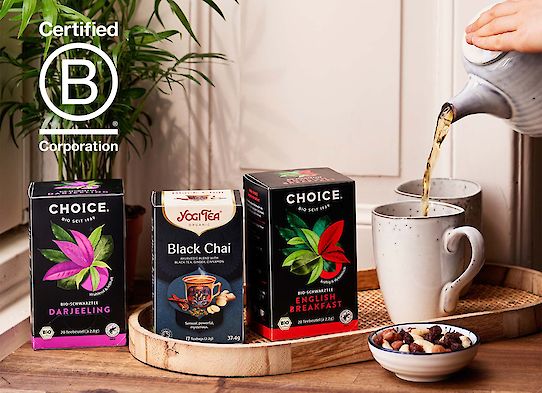 What is a Certified B-Corp and how does a company get a certification?
A B Corp is a type of for-profit business that places a strong emphasis on social and environmental responsibility. B Corps are legally required to consider the impact of their decisions on all stakeholders. These are not only their shareholders, but, in our case, everyone involved in the tea-making process – including nature.
To become a certified B Corp, a company must meet rigorous standards set by the nonprofit organization B Lab. These standards cover various aspects of a company's operations, including its governance, workers, community, environment, and customers. B Corps go through an assessment process encompassing 250 questions intended to evaluate their performance in these areas. If they meet the required criteria, they receive the certification.
B Corp certification serves as a way for businesses to demonstrate their commitment to being socially and environmentally responsible. It is a way for companies to align their business goals with broader social and environmental objectives, often referred to as the "triple bottom line" of people, planet, and profit.
With a score of 117.6 we are thrilled to be well above the 80-point benchmark needed for certification. To us, this score represents more than a number. It is a reminder of how our everyday actions and decisions can have a positive impact on our community, our workers, our consumers, our planet.
Read on to find out essential ways in which our business is a force for good in key B Corp areas:
Environment
YOGI TEA® is recognized by B Lab for its positive impact on the environment. All ingredients used in YOGI TEA® products are responsibly sourced, from farms using only environmentally friendly farming practices.
The farming methods approved by YOGI TEA® forbid the use of chemical pesticides and synthetic fertilizers. This approach prevents pollution while also supporting soil health and water retention. In addition, implementing only ecological farming methods and growing organic produce promotes biodiversity, encourages a thriving ecosystem, a healthier environment, and human well-being, too. YOGI TEA® further strictly prohibits the use of genetically modified organisms (GMOs), including seeds and plants. This dedication to avoiding genetic engineering contributes to the preservation of natural systems. Promoting soil health is extremely important to us and we are supporting farmers around the world as they introduce regenerative agricultural practices on their farms.
Community
To empower and enrich our farmers, we forge lasting partnerships that drive much of our ingredient sourcing. From Guatemalan cardamom to South African rooibos, we believe in going directly to the source – a practice that ensures farmers are the ones profiting from their hard work.
For farmers, direct sourcing means working with us without intermediaries right from when the seed hits the soil. This brings security and reliable, higher income, without any middlemen taking a cut. Currently, we are working with smallholder tea farmers in Rwanda with a diversification project: we're pledging to buy the lemongrass they're planting alongside their tea bushes. This additional crop protects their productive soil and provides a secondary income source to expert tea farmers.
In this shared journey, farmers gain stability, market access, and a chance to diversify their fields while we enjoy traceable, top-notch produce. This bond nurtures trust and ensures adherence to our highest standards. Through direct sourcing, we get to support our tea community, promoting sustainable practices and ensuring the economic vitality of farming communities across the globe.
Workers
To be certified as a B Corp, a company is evaluated on its contribution to its employees' financial security, health & safety, career development, and engagement & satisfaction.
In the realm of workers' well-being, YOGI TEA's pursuit of a B Corp certification reflects our commitment to creating a workplace that values employee welfare, fosters a supportive culture, and upholds fair labor practices. This includes fair compensation, making sure wages align with industry standards and local living wages. Workers also profit from contributions to their pension funds as well as other workplace perks. Further, YOGI TEA® is especially committed to gender equality. That means that everyone has equal right to a full or part-time position.
The B Corp community extends beyond mere certification. It's a testament to the potential of businesses as agents of positive change. It demonstrates that businesses can flourish by prioritizing people over profits. We hope to magnify this message and encourage more businesses to embrace the B Corp ethos.