Well-being is everything that really nourishes your soul.
Your own personal well-being is as unique as you are and can take on many different forms. In order to discover what is really good for you and enhance your well-being, it is important to take some time to reflect, be mindful and stand up for your own needs, values and goals.
However, just because well-being is a personal matter doesn't mean it can't be a shared journey of discovery. After all, most things tend to be much more enjoyable when they are experienced together with others – true to the motto of joy shared is joy doubled!
Embracing winter together
It is especially important to look after your own well-being in winter. The cold, uninviting weather outside can often have a negative impact on our mood. It can be very tempting to hide away indoors and bury ourselves under a thick duvet. However, we want to inspire you to make the most of this time with your loved ones to bring some warmth and sunlight to your life even in the deepest depths of the season.
In order to make a cold winter day a little brighter, we have compiled a list of fun activities to try together with your loved ones. Let's embrace winter together and enjoy it to the full!
Winter bucket list: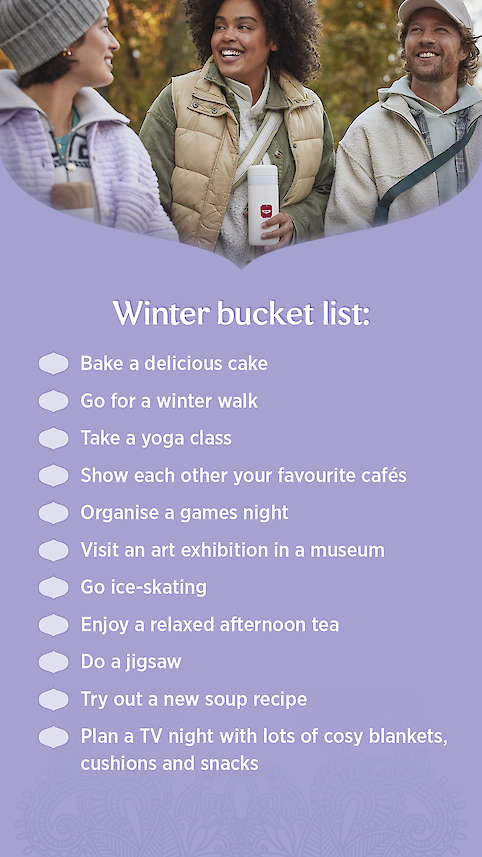 Enjoying winter with friends and YOGI TEA®
Friends can enrich our lives in many ways. They can help us to express our thoughts and feelings, reduce our stress and increase our well-being. Did you know that friends are just as important to our health as eating well and exercising? In other words, there is no better self-care than spending some time with good friends.
And if you are looking for a hot drink to accompany your TV marathon, we have the perfect idea: A deliciously chocolatey chai latte with our YOGI TEA® Choco Chai! And for all of you chocolate lovers, we even have the ideal snack recipe to go with it. How about our vegan peanut chocolate bars? Or perhaps some chocolate oatmeal cookies?
We also have a fantastic soup recipe for you to try out with your loved ones at home: our zesty sweet potato and orange soup with YOGI TEA® Turmeric Orange is perfect for a cosy winter evening.
Whatever you go for, we wish you a wonderful winter and lots of fun trying out the recipes at home!