The YOGI TEA® Turmeric Chai, the new YOGI TEA® creation for 2018, was welcomed with "open teacups". We are grateful for all the positive comments and the many photos that you have so enthusiastically shared on our social media channels!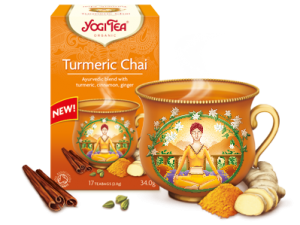 With our Turmeric Chai, you can prepare the popular Golden Milk in just a few minutes. Read more: two recipes for Golden Milk
Since the warmest time of year has started, we keep getting questions about whether our Turmeric Chai can also be enjoyed as an ice tea. And we say: yes, of course! Just bear in mind the following:
The general rule is that to prepare any type of YOGI TEA® cold as well as hot, just make the tea exactly as instructed on the packaging. The tea should steep for at least 5 minutes in boiling water. The tea should be allowed to cool to room temperature before you put it in the fridge, and then used up within 2 days. That is the easiest way to make sure that you can prepare your favourite YOGI TEA® to enjoy even on the hottest days.
BUT...If you are hankering after a really ice-cold YOGI TEA®, then the magic word is "YOGI TEA® on Ice"! Here are three super-easy recipes for Turmeric Chai ice teas, which will really wow your taste buds!