Does this sound familiar? You feel tired but you'd like to make a fresh start with renewed energy? You're looking for something new and a little adventure to give you the boost you need? Then you must try our YOGI TEA® Maca Chai – an exotic adventure in a cup of tea.
Maca, the superfood
Here you can find out everything you need to know about the superfood Maca and what makes our new product so special.
The Maca plant originally comes from the Peruvian Andes, where it was cultivated by the Incas as far back as over 2000 years ago. The plant is a genuine specialist in survival, since it grows at heights of between 3000 and 4000 metres (10,000 to 13,000 feet) above sea level. At this altitude, the plants are exposed to strong sunlight, low levels of oxygen in the air, strong winds and major fluctuations in temperature. Hardly any other species of plant can survive in such extreme conditions. This in itself reflects the power behind this special plant. Its invigorating properties were appreciated as far back as the ancient Inca civilisation.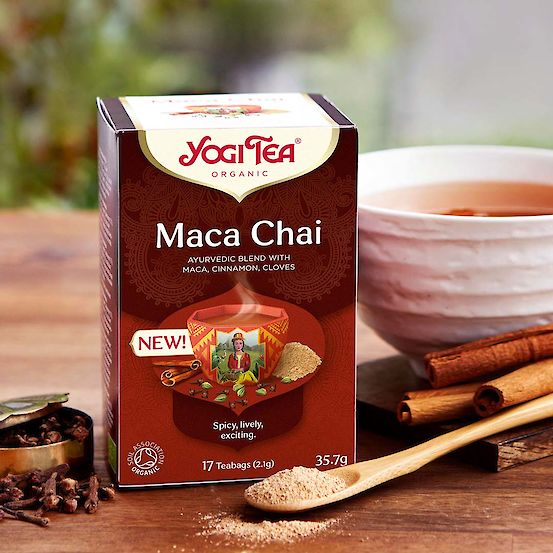 Thanks to its many positive qualities, Maca has nowadays become established as a popular superfood. Maca is rich in vitamins, minerals and trace elements and has a stimulating and energising effect. It also helps our bodies to cope better with stress, making it a genuine all-rounder providing mental as well as physical support.
Maca is mainly used in powder form. The powder is made by grinding the roots of the Maca plant and has a beige colour and a nutty, slightly roasted flavour. In our YOGI TEA® Maca Chai, it is complemented perfectly by typical chai spices such as cinnamon and cloves, as well as cocoa shells.