Discover our delicious and healthy recipe for Fruit and Nut Energy Bars made with Green Energy YOGI TEA®, the perfect snack for a quick energy boost!
Summer is just around the corner and we are already starting to spend more and more time outside and in nature. Whether you'd like to enjoy them at a picnic by the lake or after a jog in the park: our energy bars are a perfect healthy snack.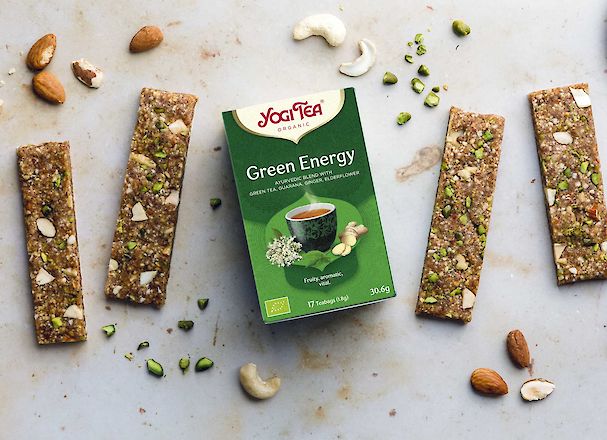 Energy bars can be found in many households and are one of our favourite go-to snacks! We have created a delicious, healthy, vegan recipe which combines a wonderful mix of fruit and nuts along with a very special ingredient: our very own YOGI TEA® Green Energy! They are full of delicious, natural ingredients like pistachios and dates, which makes them an excellent source of protein, fiber and antioxidants.
This simple recipe makes 10 bars so prepare a batch of this delicious mix and enjoy them throughout the week.
They are a great treat to have on the go, before or after you exercise or simply with a cup of tea to keep you going throughout the day. We all need a little energy kick from time to time so why not have a go at making this simple recipe for yourself?