Christmas is the season of gratitude, giving back, and sharing.
It has always been our mission to make sure the world is better off because we're in it by doing good. That is why we strive to improve living conditions for people around the world.
This year, we want to take the festive season as an opportunity to positively impact the lives of others. In Nepal, one of the poorest countries in the world, there is a very special orphanage that we have had a close connection to since its establishment in 2014. As we have been accompanying the project for many years, you probably are already familiar with it. The founder of the project, Arun Storrs, has Nepalese roots herself and was adopted by former YOGI TEA® employee Beth Eldridge when she was just seven weeks old. Arun named the project "Kumari," which means "Princess" in Nepali, because she feels every girl deserves to be treated as royalty, regardless of family circumstances. This is one more reason why the project is particularly close to our hearts, and we want to support it to the best of our abilities with the proceeds from the sale of our YOGI TEA® Christmas Tea.
In the following, we want to give you an insight into the Kumari Project, which provides the girls with a sense of normality and a home that gives them the best conditions for a bright future.
Fostering Creativity and Career Prospects
All 12 children living in the so-called "Safe House," as the Kumari Project is referred to can engage in artistic activities and choose between dance and music lessons. These offerings are designed to gradually introduce them to various forms of expression, strengthen their self-confidence, instill a passion for knowledge acquisition, and enable them to become life-long learners Additionally, the Safe House facilitates exchanges between the children and professionals from a variety of fields. They can speak with local art teachers, gallery owners, and foreign artists as well as forest rangers, pilots, marketing and IT professionals to decide on suitable career paths. As all of the girls are now in their teenage years and completing their final years of education, they are exploring some of the career paths they have encountered in the Safe House.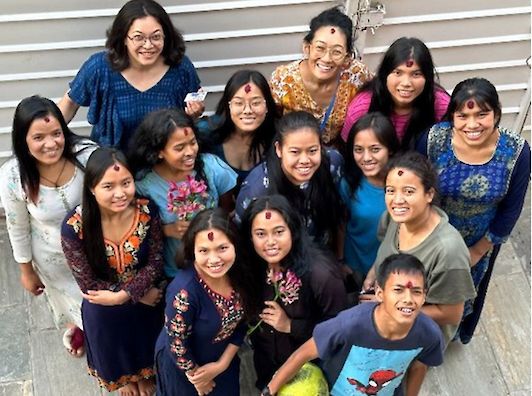 See How the Stories of Kumari Family Members Unfold
So far, three remarkable girls have successfully completed the Plus-2 program, which is equivalent to the German high school upper-level education. These young women are at the beginning of an exciting journey filled with possibilities. The Plus-2 program allows them to deepen their interests and talents. Muna and Minu are delving into the realms of social and natural sciences. Muna dreams of a future as a psychologist, while Minu is considering a promising career as a doctor.
Rabina has already begun her medical education and aspires to work in a local hospital or become a dedicated village doctor. On the other hand, sisters Pramila and Pramisha are true artists. Pramila completed her Plus-2 program with a focus on art and is already gaining practical experience in a gallery. Furthermore, she shares her knowledge with elementary school students by teaching art classes at a nearby school. Pramisha, on the other hand, is working toward her SEE, a nationwide examination that represents the final hurdle before her admission to an art school.
Achieving Great Things Together
These are just a few of the many inspiring stories with the Kumari Project at their heart. The journeys of these young women are marked by determination, education, and the promise of a brighter future.
If you'd like to learn more, you can find additional information about the Kumari Project in Nepal here.