One subject that affects us all and is becoming increasingly relevant is sustainability. There are plenty of opportunities for everyone to contribute in their own way towards achieving our shared goal. Small gestures are often enough to help achieve a more sustainable lifestyle.
Here you will find a list of our seven favourite life hacks, which are super easy for everyone to achieve
1. Insulated bottles with a cool design
One of the most important topics when it comes to sustainability is the use of plastic. What can we do to reduce the dramatic pollution of the environment and especially of the world's seas and oceans? How about taking a first step in the right direction by getting yourself an insulated bottle and buying no more plastic bottles? Insulated bottles are available from many different suppliers these days and come in all sorts of eye-catching colours and designs!
2. Beeswax wraps as a practical alternative
We often use foil or cling film to keep food fresh at home. Beeswax wraps are a wonderful alternative, preventing unnecessary waste. You can find out more about beeswax wraps in our blog post: Beautiful, practical and environmentally friendly: our YOGI TEA® beeswax wrap ⇒ YOGI TEA®.
3. Take your own bags when you go shopping
The era of plastic bags in supermarkets is drawing to a close, with are so many other great alternatives now available, such as jute and fabric bags. These are easy to fold and transport, as well as being practical and reusable. As well as jute and fabric bags, there are also reusable bags for carrying fruit and vegetables – such as our YOGI TEA® fruit and vegetable bags. Our sustainable and reusable bags are made of 100% organic cotton and are the ideal alternative to plastic bags – perfect for your next shopping trip. Whether you are buying bread, fruit or vegetables, our fabric bags can be used for all loose items. Our bags are also Fairtrade and GOTS certified. Ask for a YOGI TEA® fruit and vegetable bag at your local organic shop and make your shopping even more sustainable. You will receive a YOGI TEA® fruit and vegetable bag when you buy any three boxes of YOGI TEA®.
4. Take the stairs instead of the lift
We could make our own bodies more sustainable by using the stairs more often instead of the lift, couldn't we? It might make you out of breath the first few times but by the time you get to the 4th or 5th time, your colleagues will be quite envious when they see you walking up and down the stairs without any effort. An added benefit here is that each time the lift is not used, energy savings will be made!
5. Giving clothes a second life
We all know what it's like: standing in front of the wardrobe not having a clue what to wear... even though the wardrobe is completely full?! Take the time to sort out your wardrobe and decide what you really will wear again and what deserves the chance for a second life. You can do this by selling your unwanted clothes on a second-hand clothes platform or at a flea market or you could donate them to charity shops.
6. Support your local dealer
Are you already acquainted with your local farm shop? What about the little boutique that has just opened two streets away? Or the baker's that always smells so wonderfully of freshly baked cakes? Take a look at the shops in your neighbourhood and discover some new little gems and perhaps even a new favourite café. The locals will be delighted if you pay them a visit and shop directly with them!
7. Put leftover food to good use
We all know about organic waste. It's where the onion skins and carrot peelings from yesterday's dinner and other leftovers end up. Let's put these to good use and turn them into a delicious home-made stock.
Just take the leftovers, such as carrot or celeriac peelings and half an onion, which would otherwise be left over, put them in a saucepan and cover with water. Bring the leftovers to the boil and season them with fresh herbs, ideally from your own herb garden. When all the ingredients have gone soft, pour into a strainer, season with salt and pepper and bring the stock back up to the boil before pouring it into sterile jars.
One thing is for sure, home-made just tastes better!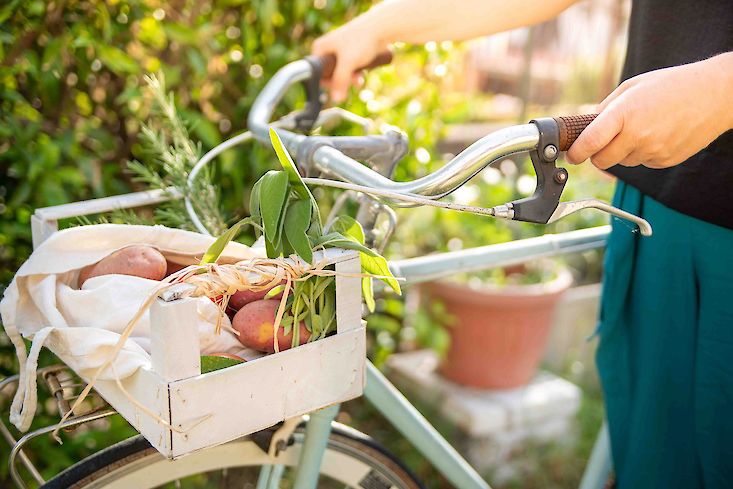 Maybe you are already doing some of these things, in which case hats off to you! You are already a role model. Or maybe our seven life hacks will inspire and encourage you to try something new.
Other great ideas for living a plastic-free life include bars of shampoo and buying loose products without packaging!
In what ways are you already saying goodbye to plastic? We look forward to hearing about your inspiration and creative ideas!