A more sustainable and environmentally-friendly world is part of our vision. We source some of the ingredients for our new YOGI TEA® Happy Nature from Madagascar, one of the poorest countries in the world. That's why we're supporting a fantastic reforestation project there, helping local people at the same time.
Preserving the diversity of nature is extremely important to us at YOGI TEA®! Why? Since we source the ingredients for our delicious tea blends from all over the world, we are naturally concerned about preserving them. The destruction of forests in Madagascar is a global problem with alarming consequences for biodiversity.
Madagascar: a paradise under threat
When you think of Madagascar, you probably have a picture in your head of beautiful beaches, lush green rainforests and a diverse ecosystem. The truth is that the island is facing some major challenges: Madagascar is one of the world's most affected regions by slash-and-burn agriculture and deforestation.
90% of the island's native forest has already been destroyed. Madagascar is home to more than 250,000 plant and animal species, some of which are endemic. Meanwhile, 80% of the population earns a living exclusively from agricultural production.
As a buyer of ingredients grown in Madagascar, the preservation and diversity of nature, as well as the well-being of its people, are particularly close to our hearts. Together with our partner Jacarandas, we are working towards achieving better working conditions for local farmers and supporting a reforestation project in Madagascar.
Interview with Aina from Jacarandas - find out more about our partnership and the reforestation project:
Aina, can you tell us about Jacarandas – what's it all about?
Jacarandas is a wholesaler for essential oils and spices based in Madagascar. We have particular expertise in sustainable farming and have built long-term relationships with local farmers. We are currently working with 1,500 farmers producing organic-certified products on the island, who are brought together in associations or cooperatives..
We place a special emphasis on the relations between farmers and the environment. That's why we promote a sustainable farming system in our areas of production.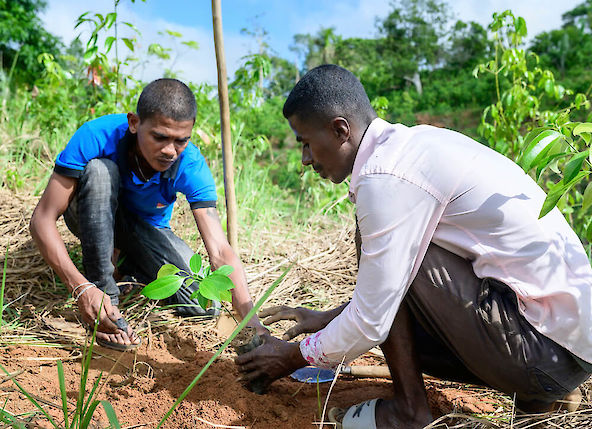 How did the cooperation with YOGI TEA® come about?
The production of cinnamon and cloves in Manakara, a protected area in the south-east of Madagascar, concerns YOGI TEA® directly because it uses these ingredients for its YOGI TEA® Happy Nature. We are working together to promote reforestation and sustainable farming in the region.
In YOGI TEA®, Jacarandas has found a partner for rural development, particularly when it comes to local issues such as climatic events, destruction of the environment and access to financial resources. Thanks to this partnership, Jacarandas can further develop its existing activities and enhance their effects on the region.
What exactly is the reforestation project all about? What kind of support is being provided?
With the help of YOGI TEA®, we are supporting 510 farmers with a training programme in sustainable cultivation – helping people to help themselves in the long term. They are provided with training sessions from experienced farmers, financial support for making investments and more than 60,000 seedlings (20,000 in 2022 and 40,000 in 2023), to grow cinnamon and cloves, for example.
The majority of smallholders should also be able to enhance their income by selling cinnamon and diversified products. In addition, farmers will be given an introduction to or training in sustainable practices, such as organic farming methods, post-harvest management, reforestation and environmental education. Following the last cyclone in February 2022, this project will help farmers to redevelop their stock of trees and ensure a better future for themselves.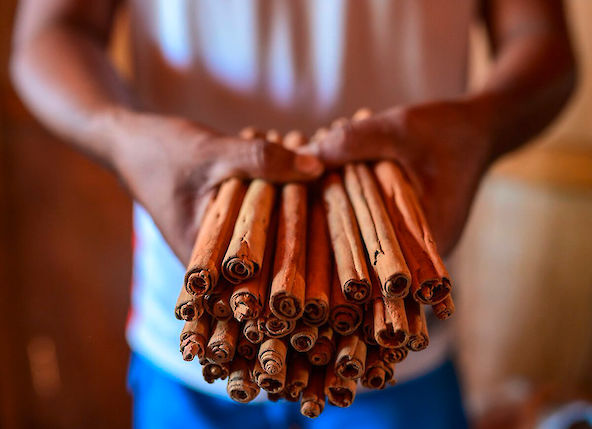 YOGI TEA® Happy Nature – Buy it and do good
We are delighted to be able to support such an important project with our YOGI TEA® Happy Nature and are determined to continue to make a contribution by supporting such important concerns. By purchasing this tea, you are supporting one of the many farmers in sustainable and fair agriculture and at the same time doing something good for the environment in Madagascar.
Discover all our Doing Good projects and join us on our journey to a more sustainable future.