We love spring! We made it through the dark season and are happy that the days are getting longer and warmer again. The light of spring encourages us to become more active as it awakens our curiosity and desire for new experiences and plans.
Here are our Top 5 suggestions to help you start spring in a good way:
Create little breaks for yourself on a regular basis in everyday life – moments in which you consciously pause and can recharge your energy. Have you participated in our #7minuteschallenge?
Drink enough water or unsweetened tea to support you in establishing this habit. There are also many great apps for this purpose.
Stay curious and open-minded. Try to visit at least one new place – a place that you have yet to discover may be very close to you.
Be thankful more often and do good – Gratitude has a wonderful influence on our lives. It opens up new possibilities for us and allows us to master things more optimistically and successfully
Be sure to do good things for yourself such as yoga, healthy snacks or even little adventures in nature.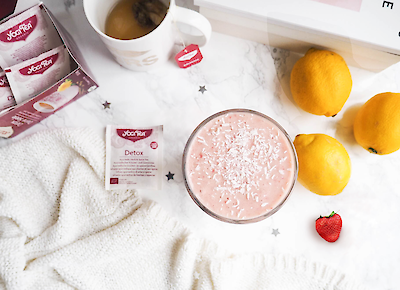 In keeping with this good mood, we developed a new recipe in cooperation with Ilka of ilkaeliseb.de. Today we present a smoothie that contains YOGI TEA® Detox as a special ingredient.
With an herbal fragrance, this tea lets your soul shine and supports you in getting a new start – which a very fitting for the season in which everything magically awakens anew. Its balanced herb and spice mixture with dandelion, ginger and fennel is refreshing and turns the smoothie into something special. Combined with fresh fruit and chia seeds, this smoothie tops of our current list of favourite recipes.