Making great tea means searching for the best ingredients from around the world. Sometimes our work takes us to communities that need extra help: financial assistance, environmental interventions, or social support. At YOGI TEA®, we believe that We Exist to Inspire, and we take pride in our outreach programs in farming communities worldwide.
Fundación Paraguaya: Practical and innovative solutions
In Paraguay, our supplier partners Martin Bauer and Lapacho discovered that rural farms were faced with persistent poverty. They brought in the non-profit Fundación Paraguaya, who used their local expertise to analyse its root causes. Ingredients like lemongrass and orange peels, that you can find in our YOGI TEA® products including Turmeric Orange or Matcha Lemon, are an important source of income for the community. Nevertheless, the living conditions remain a challenge that we would like to address.
Land reform and large-scale farming operations are a continuous issue in Paraguay and directly affect smallholder farmers and indigenous groups. Research indicated that farmers could support additional income sources, and with our financial backing they set to work. By doing so, they were able to find customised solutions for every community.
Poverty Stoplight
Fundación Paraguaya began offering specialized training sessions directly to those in need. Their widely recognized approach, Poverty Stoplight directly analyses and addresses peoples' challenges, which makes it a substantial part in finding creative solutions.
This system offers a self-assessment survey and intervention model that enables people to develop practical solutions to overcome their specific needs.
These include a training in agricultural practices, especially in the improvement of soil. Farmers learned to plant diverse vegetable crops, as well as home gardening for a better nutrition. In addition, they learned how to produce and sell natural detergents to increase productivity, which serves as an additional income source. The activities also were accompanied by training in basic financial management and savings.
The program offers both environmental and economic benefits with inspiring results.
Cooperation with local community
Progress is monitored through surveys, and responses show the hope offered by these efforts. A participant said: "For the first time, these families have been able to learn about their abilities, opportunities and strengths." We're proud to be a part of a collaborative effort to bring positive change to these communities.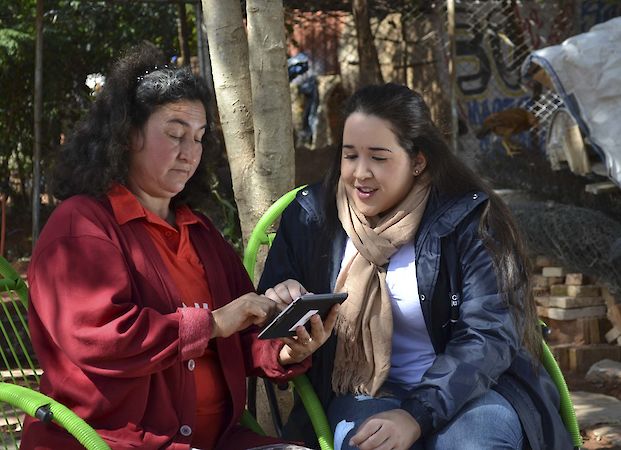 We do good – and so are you
We are committed to doing good. Guided by the purpose to foster global well-being, we support meaningful initiatives like this Paraguay Income Diversification project.
Learn more about our YOGI TEA® foundation and discover additional purposeful programs, such as our Porridge Project, and see how we are engaging in global well-being.