Why is it so important to protect wild bees? Here you can find out about protecting wild bees and learn tips on how to do your bit with our YOGI TEA® wild bee hotel.
Let's join forces and do something to preserve wild bees and our ecosystem!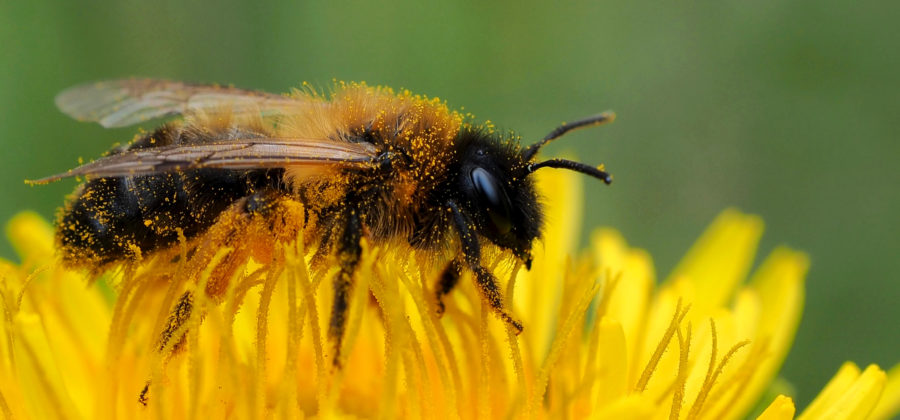 Small creatures, huge importance.
Owing to human influence on nature and the use of pesticides, wild bees have lost a substantial proportion of their original habitat. As a result, just under 300 species of wild bee are on the endangered list. Yet wild bees are incredibly important to nature and us humans, as 80% of plants rely on insects to pollinate them. Increasing urbanisation also means that these little creatures have ever fewer safe spaces in which to nest and hibernate. These are the reasons why we want to help save the wild bees.
A home with 80 rooms
Here at YOGI TEA®, it is in keeping with our philosophy to help out wherever we can to protect people and the environment. For this reason, we have worked with bee experts and bee-keepers' associations to develop a wild bee hotel that offers these creatures a new home and, above all, a safe space in which to nest, hibernate and rest. This allows the females to create a nest in the wild bee hotel and provide their offspring with food after they hatch.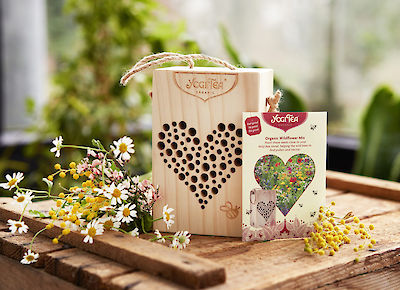 Our wild bee hotels have approx. 80 holes in varying sizes so that different species of wild bee can find shelter here. The wild bee hotel was made with untreated wood from the empress tree. The hotel is made of a light yet solid wood, thereby offering the wild bees good protection. The wood used is FSC-certified.