What does self-care actually mean?
If one thing is for sure, it's that self-care means something different to each individual. For some, self-care is about relaxation, peace and quiet, lying on the sofa and switching off. For others, it might mean spending an action-packed day with plenty of exercise and seeing friends. The most important thing is always to listen to your body and your mind so that you can devote yourself to your own needs. It's not so much about creating the "perfect self-care routine", but about integrating things into your everyday life that really do you good.
What is self-care all about?
You can make self-care a part of many aspects of your life. Starting with your body, your emotions or even in your working life, there are many situations in which you can pay better attention to yourself. Self-care for your body includes getting enough sleep, exercise and having a balanced diet. At work, for example, you can make sure that you defend your own position and draw boundaries.
However, try not to let it get to you too much if you don't pay attention to everything all the time. After all, it's also about finding ways to bring more self-love into your life.
Having a bad day? Give yourself a break.
We all know what it's like – some days, it just feels like nothing's going to plan and that familiar sense of chaos soon starts to set in. You probably start to blame yourself or let all the negative thoughts set in. The result is that you start feeling stressed or exhausted.
On days like these, it's even more important to take particular care of yourself.
It's completely normal and okay to have a "bad day" now and again. This is just another one of those bad days! After all, we can't control everything that is happening around us. To help you accept things not going to plan, it helps to change your perspective. Treat yourself to a little time off and allow yourself a well-earned break. Leave everything as it is and lay back and focus on yourself.
Our 3 self-care tips to make a bad day feel better
These tips are not just intended for a bad day of course, but we know that bad days are when you really need some inspiration. That's why we have put together 3 activities, which anyone who wants to bring more mindfulness into their life can try.
1. Positive Journaling
If you have lots of thoughts going through your head that need sorting out, some people find it helpful to write them down, since this can help you to reflect more on your problems. Not only can it help to find a solution, it can also help you to "let go" by writing it down on paper. Get yourself a notebook or use the Notes app on your mobile phone to write down what's bothering you. When you read it back later on, you will be able to see how you reacted at the time and consider what you would do differently now. Alternatively, you could write down what you are grateful for in general. You might find this quite difficult if you're having a bad day, but you will see that there is always something to be grateful for. If you would like to master the power of gratitude for yourself, we have put together some templates for you to use to gather your thoughts.
2. Comfort Food
At YOGI TEA® we love to eat well. After all, cooking can become a genuine self-care ritual, whether it's alone or with friends. Simple, healthy recipes can make your day a great deal better. For some, comfort food is their favourite recipe from their childhood, whilst for others it might be a chocolate cake or something wholesome like soup.
We have a recipe for you that will warm you from the inside and be sure to put a smile on your face. Try our kitchari and treat you and your body to a moment of wellbeing.
3. Make time for things that make you happy
If you're having a bad day, you should be good to yourself. Try to listen to yourself and you will notice that you often know exactly what you need. It could be watching an episode of your favourite TV series, having a relaxing bath or switching off while listening to your favourite playlist. Perhaps you could also make time for a hobby that you've neglected lately or enjoy a walk in nature. Whatever makes you happy and feeling fulfilled – just go for it and enjoy the time you take for yourself.
The perfect consolation - YOGI TEA® Soul Balm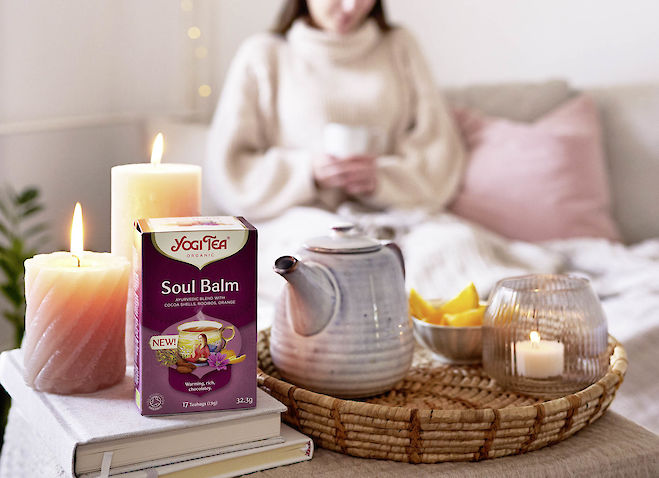 Full-bodied cocoa shells, deliciously sweet rooibos and fruity orange notes envelope you, ensure a chocolatey taste sensation and lift your mood in an instant. YOGI TEA® Soul Balm is like a warm embrace and brings comfort.
Are you looking for a delicious snack to round off your personal moment of wellbeing? Why not try our Roasted apple recipe, which is also just right for this time of year.