Did you know that approximately half of all the wild bee species in Germany are threatened with extinction? This is because bees are increasingly struggling to find the habit they need to flourish.
The Deutsche Wildtier Stiftung (German Wildlife Foundation) has therefore pledged to create new habitats for wild bees in cities such as Hamburg. In October 2020, a group of YOGI TEA® employees was able to help the foundation create a flowering garden in the Ohlsdorf park cemetery in Hamburg.
Here you can find out more about what the Deutsche Wildtier Stiftung is doing for bees and what you can do to help protect these insects from extinction.
Why are wild bees so endangered?
Wild bees are very particular when it comes to their preferred habitats. In order to feed themselves and reproduce, they need a structurally diverse environment made up of hedges, old wood, open spaces and a variety of flowering plants.
Yet these kinds of habitat are hard for wild bees to find these days, since agricultural land is being farmed more and more intensively and with single crops. It is therefore no wonder that around half of the wild bee species in Germany are on the red list of threatened species.
You may well think that it's especially hard for bees to find suitable habitats in cities. However, conservationists have observed that many species of wild bee can be found in towns and cities. The bees are finding the rare kind of habitat they need in open parklands, cemeteries and wastelands, not least thanks to the efforts of the Deutsche Wildtier Stiftung. However, the rise in construction work in urban areas is increasingly taking wild bee habitats away from them.
A flowering shrubbery for wild bees in the Ohlsdorf park cemetery
To give the endangered wild bees somewhere to live, the Deutsche Wildtier Stiftung is constantly on the lookout for new urban spaces to adapt to their needs. This time they picked out the Ohlsdorf park cemetery as a suitable candidate. The Deutsche Wildtier Stiftung has set up an educational nature trail for visitors, with various stations to inform them about wild bees and their fascinating lives.
Along the trail, there is a 300 m² patch of grass, which the Deutsche Wildtier Stiftung in partnership with YOGI TEA® has transformed into a "flowering natural garden". To achieve this, they started by removing the lawn and replacing it with a variety of shrubs, wild flowering plants like cornelian cherry and harebells, as well as aromatic and medicinal herbs like thyme and meadow sage. A narrow path allows visitors to explore the beauty of the natural gardens up close and find inspiration for their own gardens or balconies.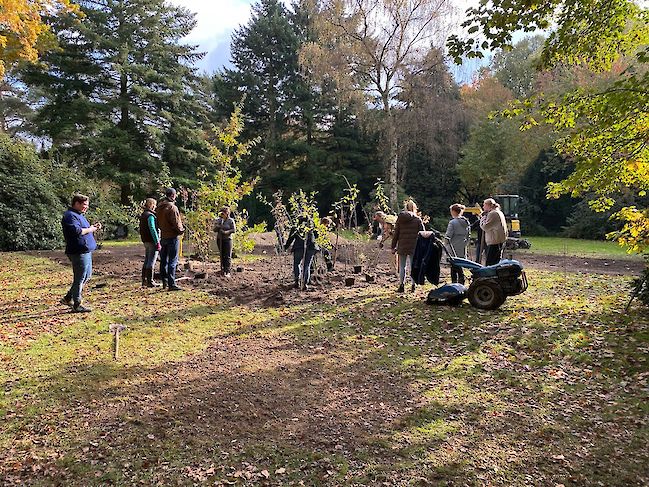 Save the wild bees! It's within your reach
We can all make our own contribution towards protecting wild bees from extinction. It's easy! Below you will find suggestions for how you can give wild bees a home:
1. Plant flowering plants for their food supply
To see them safely through the year, wild bees need a wide variety of flowering plants throughout the entire summer. They prefer native species of plant in the garden. Here is a rule of thumb to guide you: flowering plants are suitable sources of pollen and nectar if the flowers are accessible to wild bees. When the Latin name of the species has the suffix fl. pl. (lat. flore pleno, "full flower"), watch out because this means that they are filled shapes that do not provide any nectar and pollen for insects:
Spring: Flowering shrubs and trees, such as apple, hawthorn, willow, blackthorn, plum
Early summer: A variety of meadow flowers, herbs such as dill or fennel, vetch and chickling pea, stonecrop, viper's bugloss and bulbous plants
High summer: Perennials such as older herbs, aster and tansy
2. Provide wild bees with a place to nest
Different species of wild bee have different needs in terms of places to build a nest: ground nesters need open ground, slopes, exposed earth, dry walls or sandy areas. Even areas as small as one square metre are sufficient, provided that they get a lot of sunlight. Wild bees that nest above ground like worm-eaten branches, which you can stack up in a sunny place. Bramble stalks that have been cut down in the spring are also a wonderful place for a wild bee hotel.
Let's save the wild bees together!
As you can see, even the smallest balcony or garden can provide enough space and opportunities to set up a scented and floral B&B for wild bees.
By the way, did you know that our YOGI TEA® Bee Happy also supports wild bees? It is made of plants that are a particularly popular source of food for wild bees.