We at YOGI TEA® support several projects that help people and children in need. One of them is the Kumari Project in Nepal, which supports building safe and joyful childhoods for orphans in Nepal.
As you know, on April 25 a magnitude earthquake devastated homes, infrastructure and cultural heritage sites, also the buildings of the Kumari project were damaged. About one month later, on May 12, a powerful aftershock struck the area, causing more deaths and destruction and reigniting fear and concern among residents. The human losses and the damages are huge and tragic.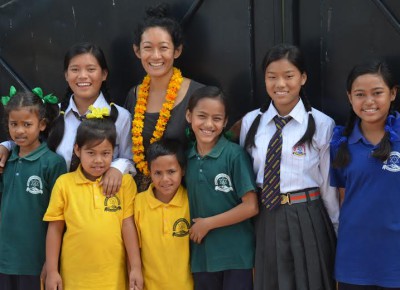 We want to share with you a positive update from Beth Eldridge, co-founder of Kumari Project and mother of Arun Storres, founder of Kumari Project. Arun is a native Nepalese woman who was adopted by Beth when she was seven weeks old from an orphanage in Nepal.  
Beth is a former YOGI TEA® employee and through the years has ensured Arun was kept in touch with her culture and heritage. Beth and Arun recently returned from six weeks in Nepal.
"We are very grateful to report that the safe house is 'safe' and the children have been able to move back in. They are back in school and their regular routine is getting re-established.
Overall, Kathmandu was not hit as hard as the outlying villages where there was total destruction. But there are big clouds of dust every day with the demolition of structures that are no longer safe. They also continue to have regular aftershocks. All in all, the people of Nepal are resilient and moving on to repair their towns and make things better each day. They would not have been able to get where they are without the collective global response."
Sat Bir S. Khalsa, the director Director of Global Community Relations and HR Development at Yogi Tea shared the news with all employees and closed his message with an emotional sentence: