Having a delicious cup of black tea, feeling the warmth, and enjoying the moment are acts of self-care. But did you know that by drinking our tea you're also helping others?
This story begins in Rwanda, where we source our Rukeri black tea...
Sorwathe – an ethical tea supplier
Our black tea comes from Sorwathe, a renowned tea plantation in Rwanda. With 3,000 Rwandans employed in its factory and fields, Sorwathe has earned awards from around the world for its ethical, sustainable business practices: It was a pioneer in banning child labor, tirelessly advocates for workers' rights, and was the first private company in Rwanda to establish a collective bargaining agreement with its workers.
How the Porridge Project works
Childhood malnutrition is a problem in much of the developing world. To address this issue, Sorwathe took action: In April 2018 they began distributing servings of a specially formulated breakfast porridge called Aheza to nearly 1000 children at daycare centers and preschools in their region. Aheza contains crucial vitamins and minerals to prevent malnutrition and foster healthy childhood development.
Only three months after the Porridge Project started, observers noted a dramatic drop in underweight malnutrition by almost 70% as well as the complete eradication of severe underweight malnutrition. So with the Porridge Project running, children in Rwanda get a warm meal every day, which enables them to play, learn and grow healthy and happy.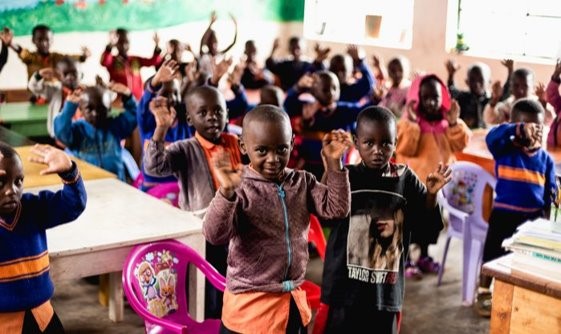 We're part of the change – and so are you
At YOGI TEA® "we exist to inspire". Whether we're sharing inspiration on our tea tags, showing yoga poses on our boxes, or creating new recipes for a peaceful teatime moment, we're always striving to make the world a better place.
So when the opportunity arose for us to extend the porridge program to a nearby tea cooperative, we gladly took it. Now, every year since 2020, we purchase a year's worth of Aheza porridge for an additional 1000 children, all below 2-3 years of age, to support their growth and development during their critical early years. We're committed to continuing this work for years to come.
Efforts like these add up. Alongside Sorwathe and other contributors in the region, we're proud to be a part of that change.
So the next time you taste our teas, pause a minute and remember that it is creating positive change. With small steps like these we can build a better world, together.