Switch off, unwind and find inspiration with our cute Bee Happy colouring designs.
We were delighted with your feedback about our YOGI TEA® Bee Happy. Our bee-friendly blend of herbal tea tastes great as well as protecting endangered wild bees – a cause for concern that is clearly close to your hearts as well as our own.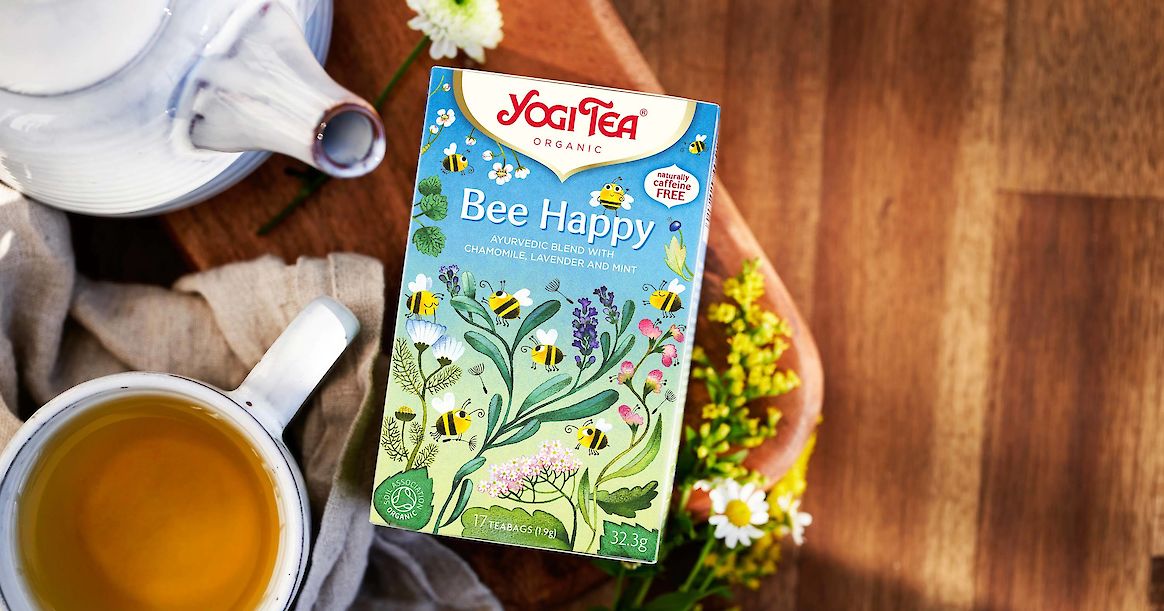 Many of you said that you particularly liked our lovingly designed tea packaging. Thanks to all your positive feedback, we have come up with a little surprise for you – our Bee Happy box to colour in!
YOGI TEA® Bee Happy Box Design
The delicious ingredients and tiny bees will really make you want to go out for a walk this spring. Our design will unleash your inner creativity for your colouring, bringing to life the cute bumblebees buzzing around the fresh mint, lavender and camomile:
YOGI TEA® Bee Happy Yogi Design
Not only is the process of concentrating on colouring in enjoyable, it also helps us to take pleasure in the here and now. After all, it is only by allowing ourselves to let go that we can genuinely find inner peace and recharge our batteries.
So we have also come up with another design for you. Our Yogi and his little bee friends will give you another opportunity for some mindful relaxation:
Simply download the designs via the above links and treat yourself to a colourful break from your everyday routine.
We hope you enjoy unleashing your creativity with our Bee Happy colouring sheets!
Would you like to find out more about our YOGI TEA® Bee Happy and everything that goes into it?
Take a look at these articles:
Tip to lift the spirits: would you like some cute bees and inspiration for your Instagram feed? Just type "YOGI TEA" into the GIF section for your Instagram stories and ... Bee Happy!