Just in time for the first warm days of spring, there is something new for you to discover in the tea aisles: Our new YOGI TEA® Bee Happy combines the pleasure of delicious herbal tea with protecting wild bees that are under threat.
A tea to make you, and our wild bees, happy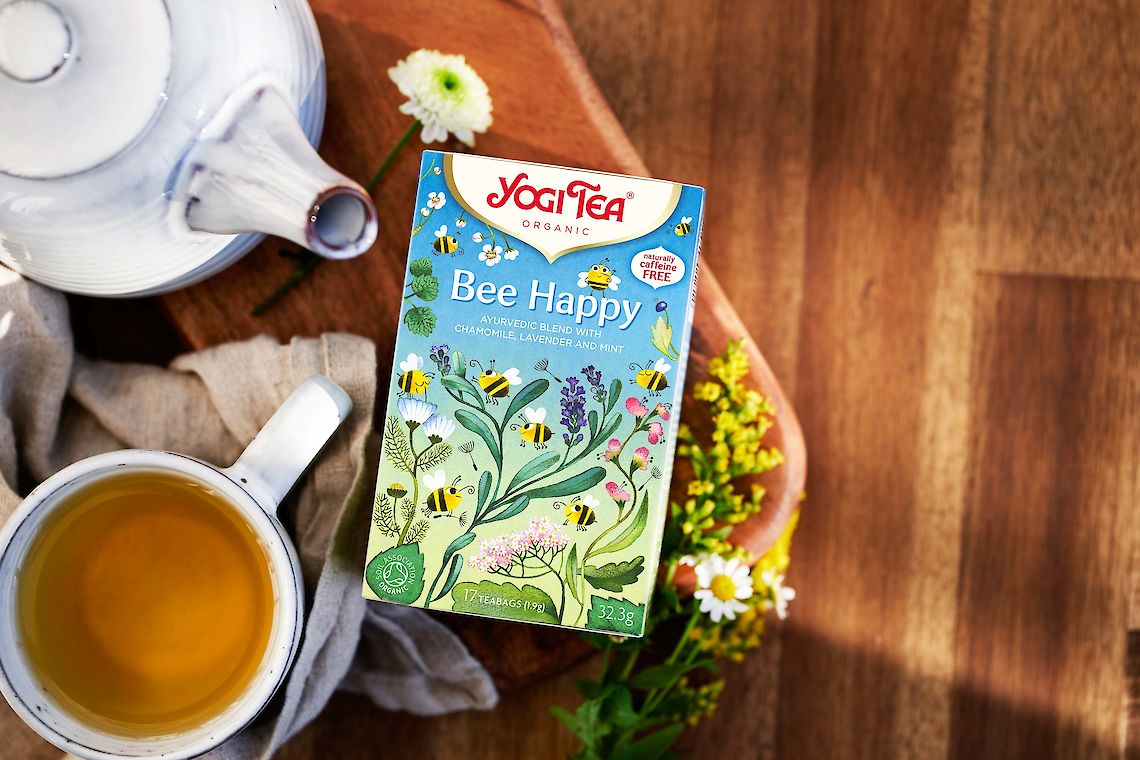 Protecting biodiversity has always been close to our hearts at YOGI TEA®. Wild bees play a vital role in our ecosystem as pollinators, thereby preserving the diversity of nature. Protecting their habitat therefore not only ensures that the little wild bees are kept happy, it also benefits us humans and our natural environment.
But what exactly is a tea that supports wild bees?
Our Bee Happy Tea is a blend of various herbs and flowering plants, producing a wonderfully harmonious taste experience. Even before the delicious ingredients find their way into our teabags, they really lift the spirits. This is because the floral tea blend is made up of carefully selected ingredients, which are a particularly favourite source of food for wild bees. Ingredients such as chamomile, lavender and mint are only harvested once they have finished flowering. This allows the little bees to enjoy the rich nectar in the herbs and flowers to the full.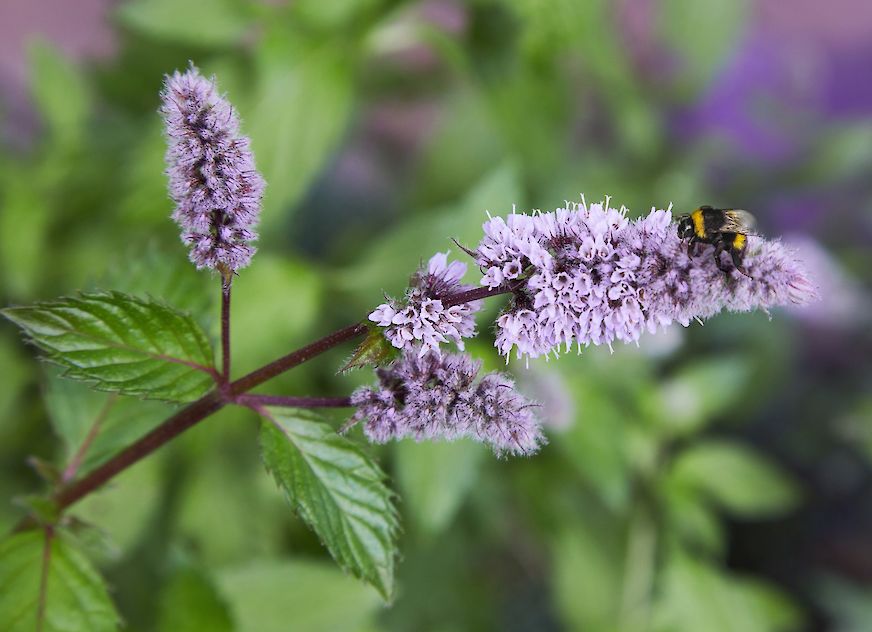 By providing artificial nest boxes, we help our growers to provide a bee-friendly environment in their fields. This means that the wild bees will not only find food, but also a protected nesting site. Of course all the ingredients we use are 100% organic. This means that no pesticides, which are harmful to insects and nature, are used. Two of the ingredients, oregano and yarrow, also come from one of our grower's social projects, which we support, to help people with mental health problems integrate into society and working life.
To provide ongoing support for the preservation and protection of wild bees, YOGI TEA® has started a long-term project partnership with the German Wildlife Fund.
From the flower meadow to the cup
You need to have good instincts to create a tea using wild-bee-friendly ingredients. This is because, unlike honey bees, wild bees are often very choosy in their search for food. Some species collect nectar and pollen exclusively from a certain species of plant. That's why a colourful range of ingredients is used in our YOGI TEA® Bee Happy. These ingredients not only taste great, but are also sources of pollen for a wide variety of wild bee species.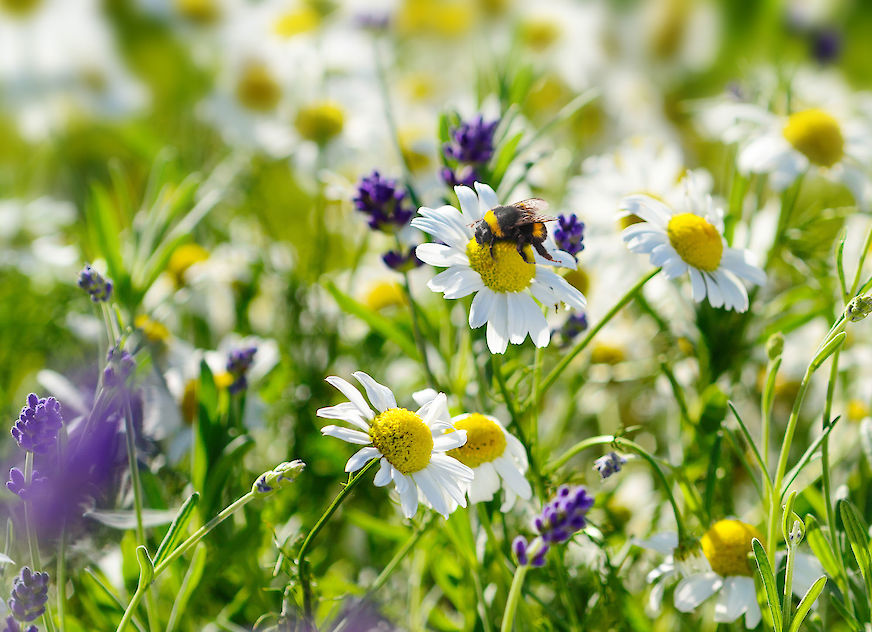 The tender green leaves of peppermint are what give our YOGI TEA® Bee Happy its pleasant hint of freshness. We deliberately do not use the purple flowers of the peppermint for our tea, since they are a popular source of nectar and pollen for wild bees and need to be preserved for them.
Precious essential oils of lavender give our tea a hint of the Mediterranean. The wonderfully scented lavender, native to the Mediterranean region, has been farmed worldwide for many years - to the delight of wild bees, since the flowers have a particularly high nectar and pollen content.
The mild taste of chamomile ensures a harmonious taste profile. If chamomile is harvested regularly, it will come into flower several times throughout the year right up to October – making it an important food source for wild bees in late summer
Be Good, Do Good, Bee Happy!
Are you curious to find out how what a bee-friendly tea tastes like? Try our YOGI TEA® Bee Happy – inspired by the protection of wild bees for flowery-fresh herbal tea moments and the joys of spring guaranteed!
Want to learn more about the commitments made by YOGI TEA®? Find out more about our partnership with the German Wildlife Foundation and our growing project!