For a few years now, bookstores have witnessed a very colourful trend – adult colouring books.
From Mandalas to magic forests, colouring has become a very popular activity to decrease stress. It is certainly true that carefully colouring drawings can help to transition into a state of inner calm and balance.
Colouring means that you concentrate on bright colours, details and the hand movement,  ensuring relaxation and allowing your mind to switch off.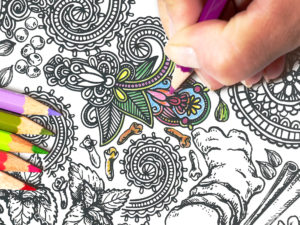 Colouring can encourage concentration, enable creativity to take flight and recharge your energy. And we think that's really great! So we are inviting all our readers to download and colour in our exclusive YOGI TEA® Mandala template.
There is no rule in colouring except one: let your cares and worries disappear!
Here's our tip: colour in the Mandala while your favourite tea is infusing and take part in our #7minuteschallenge