We love our COLD TEAS! The wealth of positive feedback we have received from you on Facebook and Instagram makes us very happy and proud. A big thank-you to you all!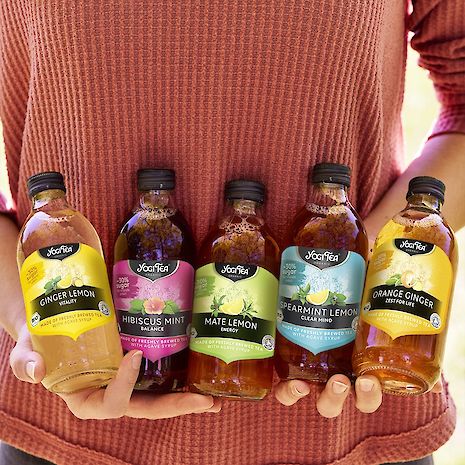 We look forward to more great photos of your refreshment moments on Facebook and Instagram! Tag your photos with #yogitea and/or #yogiteacold and we will give you a "Like".
Along with the many compliments on our new, refreshing creations, we have also received some questions from you. We are more than happy to answer these.
"Inspiration to go" – where can I find the Yogi Tea sayings?
Have you already discovered the little surprise inside the bottle?
"If it isn't organic, we don't bottle it" – what is so special about our cold teas?
With our Yogi Tea® cold teas, we offer you a refreshing variety of freshly brewed herbal and spice teas. All our plant-based ingredients are organically grown, without the addition of any flavourings, food colouring or preservatives. We source the ingredients for our YOGI TEA® products from a wealth of different growing areas around the world. They change according to seasonality and are cultivated and processed exclusively in ORGANIC QUALITY.
Our YOGI TEA® cold teas are also a vegan product. And do you know what? – This applies not only for every ingredient, but also for all packaging materials: the lid, the recyclable glass bottles, the label and even the glue. In addition, all our products are lactose- and gluten-free.
"How sweet that it's sweet ;)" – why do our new cold teas contain agave syrup?
For our cold teas, we use freshly brewed tea based on our YOGI TEA® recipes inspired by Ayurvedic philosophy. In order to keep the product naturally fresh for longer without having to use preservatives, we refine the freshly brewed tea with lemon juice. This also gives our teas a pleasingly refreshing flavour. We also add agave syrup to the teas. This balances out our teas in terms of sweet and sour flavours. With its mild-to-neutral sweet flavour, agave syrup also helps to intensify the flavour of our cold teas. As an unrefined product, agave syrup contains slightly more minerals than white sugar, as well as traces of vegetable substances, while also extending the shelf life of our cold teas.
"I simply have to try them!" – where can I buy these new products?
Our new products are available from health food retailers. We are continuously expanding our range of distributors.