Learn how to find calm
In contrast to the active months of the summer, what matters now is finding time to rest again. Nature is retreating in on itself and this is also a valuable time for us to focus on ourselves. So get cosy and take more time for yourself. Try meditating, do some yoga, and discover what makes you feel good.
Our tip for a precious moment of calm: the Prayer Position
Adapt to the rhythm of nature
The days are now getting shorter and the nights are longer. Adapt to this rhythm of nature and listen to your body. It knows what is good for you. You can take pleasure in preparing delicious meals with seasonal ingredients, and enjoy them mindfully .
A little suggestion for a yummy warming soup: Sweet Chili Corn Soup
Warmth
The temperatures drop and the leaves on the trees slowly change colour. The best time for a comfortable and warming cup of tea. Warm drinks are recommended in autumn because they give us additional strength and calm. The warmth can restore your natural balance.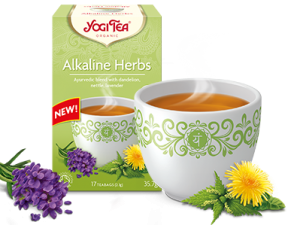 Have you already seen our newest creation YOGI TEA® Alkaline Herbs?
Going outside
Often there is not enough light at this time of year, so we start to feel lethargic. So you should make sure you spend time in nature, walking or playing sports in the fresh air, and use this time really experience the change happening around you.
Listen to music
Music evokes positive emotions for us because the right music can warm heart and soul. So put on your favourite music more often and enjoy the beautiful moments it reminds you of. Music has  a way of touching us deeply and giving motivation, and it is quite easy to integrate into most everyday situations.
Colours for the soul
The shining yellow or the bright orange of autumn can influence our mood very positively.  The beautiful autumn red can have a reviving effect and warm our soul. Find your own autumn, for example with a colourful bunch of flowers, a soft cushion in lovely warm colours, or bring some bright coloured fruit home.